Welcome to the Smartsheet Forum Archives
The posts in this forum are no longer monitored for accuracy and their content may no longer be current. If there's a discussion here that interests you and you'd like to find (or create) a more current version, please
Visit the Current Forums.
Enhancement request for Sights: Automatic scrollbar depending on amount of text to display
It would be great, if widgets would have an automatic scrollbar appearing, if there is more text to display than the size of a widget allows. Currently only report widgets have this ability.
E.g. the following widget has more text, than it can display:
The screenshot is taken from a report dashboard. The layout of this report is fix, so changing the size of a widget every now and then to adjust it to the respective situation is not an option.
Showing scrollbars would be great to have a standard layout that works with every situation.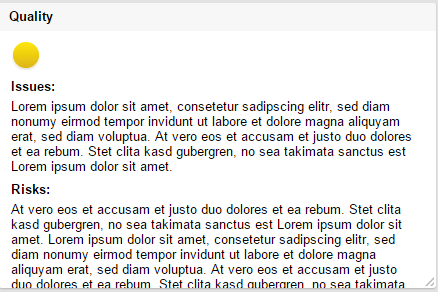 Comments
This discussion has been closed.