Welcome to the Smartsheet Forum Archives
The posts in this forum are no longer monitored for accuracy and their content may no longer be current. If there's a discussion here that interests you and you'd like to find (or create) a more current version, please
Visit the Current Forums.
Highlighting/Colouring Sundays in Gantt Chart

Hello,
I want to colour all Sunday columns in a different colour than Monday to Saturday in my Gantt Chart
Just like in the following Image; there are the Saturdays and Sundays with a grey background.
 EDIT:
Okay, I got the issue. I also highlighted the rows of the main-tasks and its child-tasks in several colours (Task 1 + Task 1.1, 1.2, 1.3 in green; Task 2 + Task 2.1, 2.2 in red, ...). So it did not show they grey highlighting of non-working days.
Is there a way i can get both?
Take the picture as an example: I do want the grey highlighting of the sundays but also want the first row having a green background, second row a red background, third row a blue background.... But still all sundays grey.
Thanks (sorry for my bad English)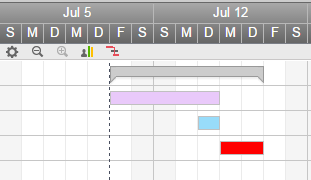 Tags:
Comments
This discussion has been closed.