Date/Time Stamp Option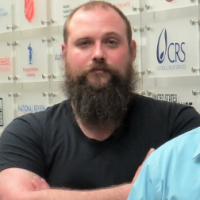 While trying to figure something else out, I stumbled across a new option for having specific actions date/time stamped using the stem generated Modified (date) type column and the new Copy Row automation.
.
DISCLAIMER:
This does not scale very well as is. If you have a lot of rows you are wanting to track a lot of changes on, it can get very cumbersome very quickly.
My personal use for this solution is tracking a one-time change on each row (think "Completed" box gets checked).
.
Here's how it works...
I have the system generated Modified (date) column. I have another set of columns that separates the date from the time for further calculations, but you could even use a single extra column that simply duplicates the Modified column.
Set up the automation to trigger according to what you want to capture the date/time stamp for.
When a row is copied, only the data is copied. Not the formula. So whatever data is in the extra column that is formula driven to duplicate the Modified column will be pulled, but the formula to duplicate won't. It will also pull attachments and comments as well.
This effectively captures the date/time stamp for a specific action.
.
Yes. The date/time stamp is on a different sheet, but that just means that you can restrict access to the historical data.
Yes. It doesn't scale very well, but at least it is a step in the right direction and gives us an option to date/time stamp natively within SS.
Comments
Help Article Resources