Innovations, swag & more: Community Corner Newsletter [November 2023]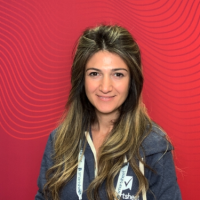 Hi Smartsheet Community, I'm Arsineh, Director of Community & Overachievers here at Smartsheet. I'm excited to share a few updates with you along with a couple new ways for you to engage and earn badges. Make sure to read to the end to learn about some special Smartsheet swag that could be headed your way.
Last month's newsletter from Rebeca, (it was a good one 👏) featured an ENGAGE recap and more. Missed it? You can check it out here. 
---
Community highlights
Help us welcome some of our newest Member introductions in Show & Tell or look through the Trending section for more ways to connect.
Say hello to these Community Members 👋🏻
Popular ideas & feature requests (reviewed by the Product Team)!
What's it going to be? Head to the Smartsheet Product and Ideas Topic to share and vote on ideas.
---
Community updates
In Case You Missed It (ICYMI)
November Question of the Month
Share your answer by November 30
Sponsor X: Girlstart
Tell us about the women in STEM that inspire you & earn a badge
Operate at Peak Human Prompt 
Share how you operate at your peak
New Smartsheet innovations coming your way
Smartsheet Swag
There may be some surprise Smartsheet swag headed your way. Learn more
---
Pass the mic 🎤 Community Champions
Community Champions are members who demonstrate product expertise and generosity in sharing best practices and support with others on the platform.
"One, don't be afraid to experiment and make it a group activity in Community. Try something out, you won't break anything. Second, don't be afraid to ask for help. There is a wealth of learning material out there and if that doesn't solve your problem, the Community has your back."
- @Sing C, Principal Process Architect at Ceridian
---
Member Appreciation
See Activity feed for more
This month's leaderboard
Member spotlight
---
Overachiever's Motivation Mix
The Smartsheet Overachievers are here to give you the songs that will keep you going and keep you achieving! Here's what's on the playlist right now.
"I love 80s music – in fact listening to an 80s channel as I write this! Take On Me gets you ready to shimmy your shoulders right from the start with the iconic drums and keyboard notes. Any chance to sing an extended falsetto note can't be wrong. It's just a great song to get pumped up for whatever thing it is you need pumping up for! Need to take on the day? Blast Take On Me!"
- @Sara_Cook, Director of Brand & Marketing Operations at Homecare Homebase
---
More about me
Hi there, I'm Arsineh, Director of Community and Overachievers. 
A few things about me:
This February will mark my 2 year anniversary with Smartsheet.
I'm based in California and a mom of two young girls.
I love to travel and think growth comes from trying something new and leaving your comfort zone.
👉 My favorite tip
Whether you're new to the Smartsheet Community or not, take a few minutes to ensure you've completed our Fully Charged checklist to ensure you're getting the most out of your experience on the platform. 
Cheers and see you in the Community!
Arsineh
---
Give us your feedback
Have ideas for the next Community Corner? Leave your thoughts in the comments!
Note: Unfollow this Topic if you'd no longer like to receive alerts. We'll miss you!
Comments